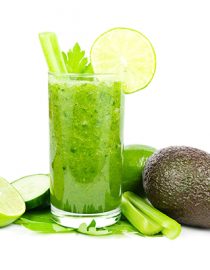 Smoothies to Build Your Bones When You Have Osteoporosis
Of all the studies on diet that have been done, I've never seen one that didn't find benefits of eating a lot of fruits and vegetables. These amazing foods contain hundreds of medicinal substances that act on all parts of the body, including your bones.
Get More Fruits and Veggies Into Your Diet With Smoothies
Your best bone building foods for smoothies are ones that are high in minerals. Don't get caught up in the trap of thinking that calcium is the only mineral you need when you have brittle bones; you actually need over a dozen to rebuild the bones. For example, you need the boron in apples to build hormones that build bone. You need the calcium from yogurt to lay down actual bone material. You need the strontium found in milk spinach, carrots, and celery to break down the 'bad' bone (the brittle bone) in your skeleton so new bones can be formed.
You need the magnesium found in leafy greens such as kale, spinach, avocado, figs, dark chocolate and pumpkin seeds to make the calcium active in the bones. You need the phosphorus found in pumpkin seeds, cheese, dairy products and nuts to build strong bones.
Even Iron is Necessary for Your Bones
Some people believe there's no connection between iron and your bones. In fact, in a study in 2003, researchers reported that there was a strong connection between iron and bone density in postmenopausal women who were taking hormonal replacement therapy. The researchers suggested that a low iron intake decreases collagen cross-linking, which results in decreased bone strength.
Researchers in other studies found that a long-term iron deficiency altered bone mass and bone structure in growing female rats. (Source: Harris, M.M., et al. Dietary iron is associated with bone mineral density in healthy postmenopausal women. Journal of Nutrition 2003, Vol. 133: 3598-3602.) Foods high in iron include dried apricots, spinach, coconut, olives, currants, raisins, and Swiss chard.
Do you see the makings of a great smoothie here with some of these foods? Here's an example of a recipe you could make to feed your bones:
Bone-Building Smoothie
2 scoops protein powder
½ cup yogurt
¼ avocado
2 tablespoons coconut cream concentrate
2 cups spinach
¼ teaspoon liquid chlorophyll
2 fresh mission figs
1 square chocolate
1 rib celery
1 leaf Swiss chard
1 apple
2 cups ice
This recipe would be for two servings. Drinking it, you'll feel the nutrients go right directly for your bones!
Now get busy! You know what to do!